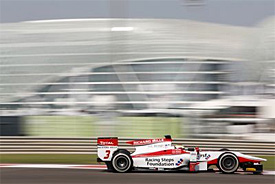 There are a number of people asking whether the two Russian drivers that are likely to enter F1 next year are "ready".
I think today's
penalty for James Calado
, puts the question into perspective.
James is an experienced, intelligent driver, and until the penalty was handed out, still had a theoretical shot at becoming GP2 Champion. He is 24, and has been racing in GP2 for the last three years. He has completed a Young Driver test and three Friday FP1 sessions with Force India.
Sergey Sirotkin and Danii Kvyat are both significantly younger than James Calado. They do not have the depth of experience that James has.
And yet James Calado is still capable of reacting angrily to an on-track incident and forcing another driver off the track during a practice session. Not qualifying, not the race, practice. He must have seen Maldonado do it to Perez at Monaco during FP3 in 2012. But he should know better by now.
Sergey and Danii would be loaded with excess insurance premiums if they were to try to get road car insurance in the UK, because young male drivers are seen as dangerous drivers. Manouevres like James' will not help their cause.
Photo: Autosport